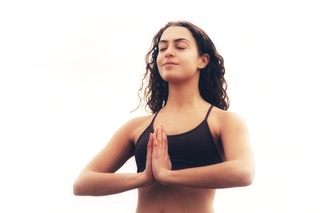 Move dynamically and softly to connect deeply to your entire body
In Calligraphy yoga slow and fluent movements allow you to perceive every detail of your moving body.  Because of this you are able to experience a deep sense of connection and eventually to find yourself in a 'flow' state. Although Calligraphy yoga is a relatively young and modern practice it is build on ancient knowledge from the teachings of Tai Chi, Qi Gong, yoga and dance. The classes are very accessible for people with little experience since it is a very safe way of moving without forced stretching of the muscles. For the more experienced yogi it is a valuable addition to other practiced forms of yoga since the deepened connection works trough and you will be able to experience your practice with a deepened level of sensitivity and perception. 
About the lesson
The setup of a Calligraphy yoga class differs slightly from other yoga classes. We will start with a meditation to arrive in the room and ground ourselves. Following this, the movements we will cover in the class will be explained thoroughly.  Therefore we will be able to use the rest of the time optimally and dive deeply into moving without distraction. Because of this everybody is able to keep their focus on themselves and flow intuitively.
About the teacher
Naomi is an adventurous young woman who has always had an interest in the movement of the body. She has been dancing from a young age and tried out almost all forms of dance from classical ballet to Hip-Hop. During High school she performed often and competed in national championships. When she started her studies in Psychology she swapped the dance floor for a yoga mat and became a devoted yogi. On one of her travels in South-America she met her teacher and lineage holder of Calligraphy yoga, Master Zhenhua Yang. She was happy to have found a practice in which she can combine both of her passions. After doing her teacher training she started giving classes to friends and family. The classes were so well received that she got enthusiastic about sharing her passion with other people.
Every Thursday from 20:15 until 21:45, starting the 14th of March (excluding the 29th of March)
More info and registering: www.naomifenna.nl
Zoek je een mooie ruimte of studio voor je yogalessen? Studio da Vasco is te huur! Huren kan per uur, dagdeel of dag. Kijk bij verhuur voor de mogelijkheden of mail info@studiodavasco.nl