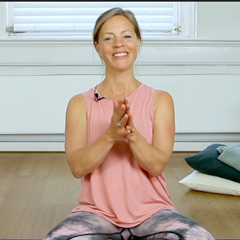 XL class with Léah Kline/Yoga4all 
hatha yoga  practice of 2 hours with a theme
If you miss taking your time to go through a whole practice without rushing, and still have time for Savasana/ meditation ?  
This is for you ~ an XL class.   XL  stands for 
Extra Long 
- 2 hours.
Why the rush?  Why are we RUSHING through our yoga practice?  
There is so much to learn in the quiet and the observation.  And there is soooooooo much fun to be had.
Who is adjusting you ?  Who is giving you personalized instruction?  
 Do you feel  seen and heard? 
If the answer is" No" or" I don't know."  
then …..
come study with me .  I do all of that. 


Leah is an experienced Yoga Teacher /Trainer and certified Licensed Anusara Hatha Yoga Teacher.
500RYT
500 ASHY
YACEP 
Leah Kline/ Yoga4ALL
Certified ®Anusara Hatha yoga teacher,  Teacher Trainer, 500 hour CE-RYT  Yoga Alliance

----
Leah Kline. 9:45-17:15